DRUMS ONLY
Drums Only is a Drum Ecstasy`s project based on compositions for drums only (European drums). This is the project most frequently invited to take part in shows and presentations. Concert performance duration – 45 minutes. For larger shows, two extra drummers are invited, with 18" and 20" drums plus percussion. Some material was recorded in 1997 and 2004, and was released in Russia and Belarus in 2004. At the moment the band is working on the second release.
SONGS
Songs – is the result of a collaboration between Drum Ecstasy and Dmitriy Lukyanchik (ex vocalist/drummer of Troica and Altanka). The music is based on authentic Belarusian folk songs accompanied by drums and bass guitar imitating the sounds of folk instruments (lyre, bagpipes). Public concerts were organised in Europe, Russia, Ukraine and Belarus. Concert performance duration – 45 minutes. Some material was recorded live in November 2000, and released in 2001 as a 100 copy gift edition for Atlant M Co.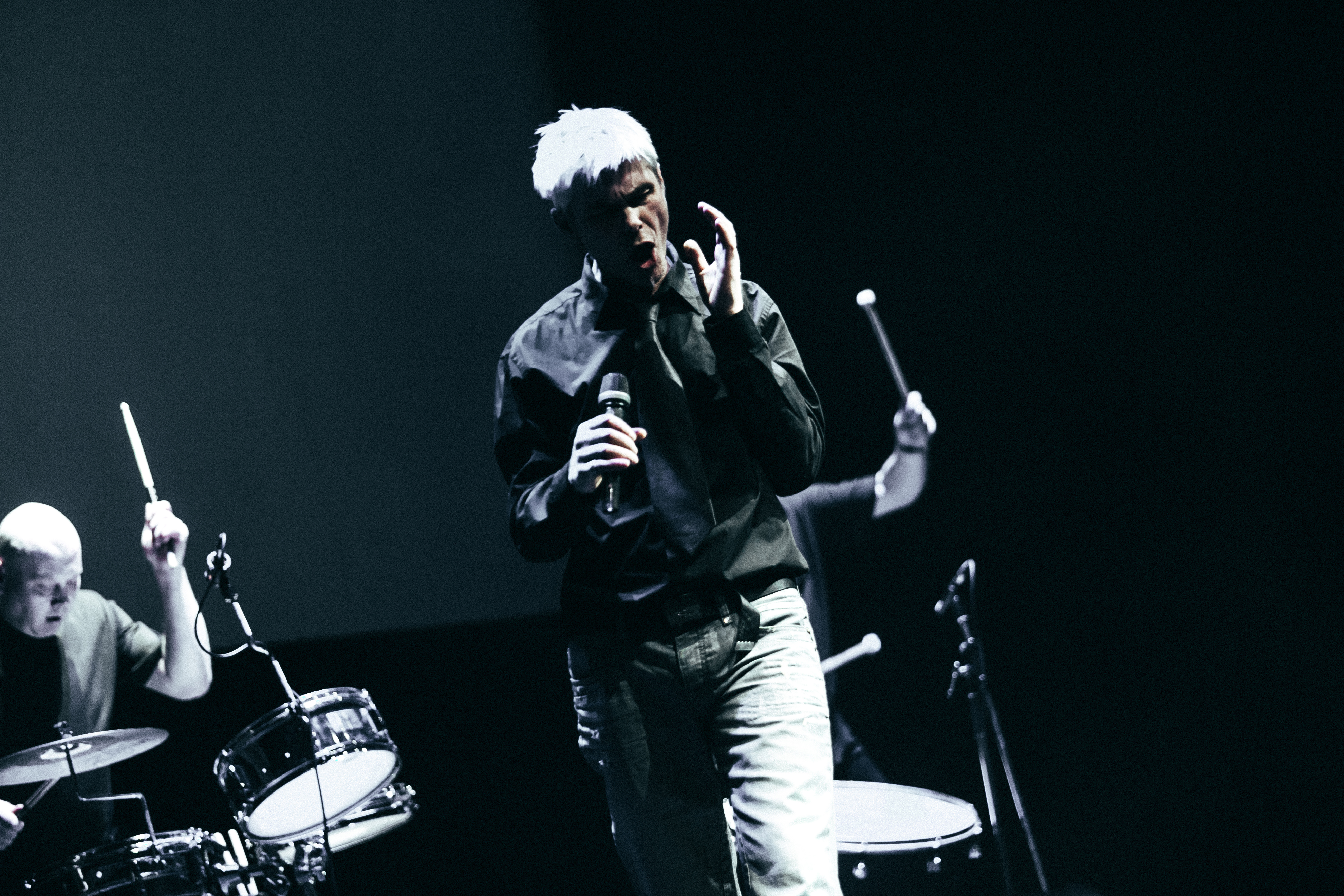 Film and Theatre
The band's music has been used for film and theatre productions. Most of them are compositions written for video already in existence and created in collaboration with the director. This is what happened when writing music for the films "The Night Watch" and "The Day Watch", and for productions by the Belarusian National Drama Theatre and Maxim Gorky National Academic Dramatic Theatre.
Drum Ecstasy has also written original music for reading at the recital literary performances of Dmitry Plax and Dmitry Strotsev, as well as a joint project by the Belarusian CineClub Federation and Minsk Goethe Institut, entitled "German Silent Cinema Retrospective With Musical Accompaniment By Minsk Groups", where they wrote a score for Friedrich Murnau's 1926 film "Faust".
"PI" - a joint project by the Korzun Broz creative collective and Drum Ecstasy. These audiovisual performances unite a series of varied visualisations (comprising hundreds of photographs of numbers on houses, manhole covers, public transport, and other locations) interwoven with contemporary poetry recited by its author (photo artist/designer Igor Korzun of the Belarusian Climate art group), and accompanied by specially written musical compositions from Drum Ecstasy.
This project has been shown to audiences in Belarus, Russia and Germany.

DRUMecstasy & HiDDeNname
Joint project of two bands, initially conceived as a mix version of the compositions of Drum Ecstasy, which resulted into a full-fledged concert show.