DRUM ECSTASY IS A UNIQUE MUSICAL PROJECT, AN UNPRECEDENTED POWER OF SOUND DEFINED BY THE BAND'S COMPOSITIONS AND INSTRUMENTS.
Musicians playing steel-shelled drums create a sound that explodes the audience right from the very first beats. With this programme, the band is the most outstanding happening of the various shows and at presentations.
DRUM ECSTASY also has another sound: drummers backed by a massive wall of bass wired through a whole string of arrangements, samples and electronic percussion create a cocktail of different contemporary music styles, from Drum'n'bass, Break Beat, Industrial and Techno through to FreeJazz. Stroboscopes and light effects directed towards the audience, sound effects created with the help of power saws, drills and other tools – ALL GUARANTEE A WINNING PERFORMANCE!
DRUM ECSTASY is incredibly mobile when sharing a stage with other artists: the band starts playing its set three minutes after coming on stage, and leaves just as quickly after the performance. This is the result of the band's extensive experience of taking part in large shows. The band uses original video projections at larger venues and halls with seated audiences. Additional drummers are invited for bigger shows.
DRUM ECSTASY IS THE FIRST DRUM SHOW IN BELARUS, UKRAINE AND RUSSIA. THE BAND WENT ON STAGE FOR THE FIRST TIME IN OCTOBER 1992. DRUM ECSTASY IS CURRENTLY INTO ITS THIRD GENERATION OF MUSICIANS.
Throughout its history, the band has given more than 1,800 performances, and its range is huge. In addition to solo concerts, it has also participated in official ceremonies, sporting events, trade, industry and art exhibitions, festivals, municipal celebration shows, and many others:
Red Bull X-Fighters show (Tbilisi, Baku)
World Of Tanks show at a wargaming stand, GameWorld expo (Moscow)
AgroBel commerce and industry exhibition (Minsk)
RAOEC Co., ceremony to mark its closure
"Arkhip" architectural awards 2006 (Russia), opening ceremony
"Prometheus" Stunt Cinema Festival (Moscow), opening ceremony
Intercom exhibition (Moscow), opening ceremony
Orange Armenia (Yerevan), opening ceremony
Atlant-М auto showrooms (Moscow, Kyiv, Saint Petersburg, Dnipropetrovsk, Minsk, Mukachevo), opening ceremonies
Bike Centre (Moscow), opening ceremony
Bike shows in 2002, 2005, 2007 and 2011 (Russia)
NHL demonstration games (Moscow), opening ceremony and accompaniment
Lithuanian National Basketball Championships (Vilnius), opening ceremony
Auto shows (Moscow, Minsk, Kyiv)
TIBO commerce and industry exhibition (Minsk)
AGROBEL commerce and industry exhibition (Minsk)
MAN Constructions Day (Moscow), opening ceremony and accompaniment
Doosan show, Budprahres construction exhibition (Minsk)
Lucky Strike tour around Belarus
Kent tour around Belarus
Microsoft presentations (Moscow, Minsk, Kyiv)
Tyumen Oil Company petrol station chain, opening ceremony
Dinamo hockey club (Minsk), official support band etc.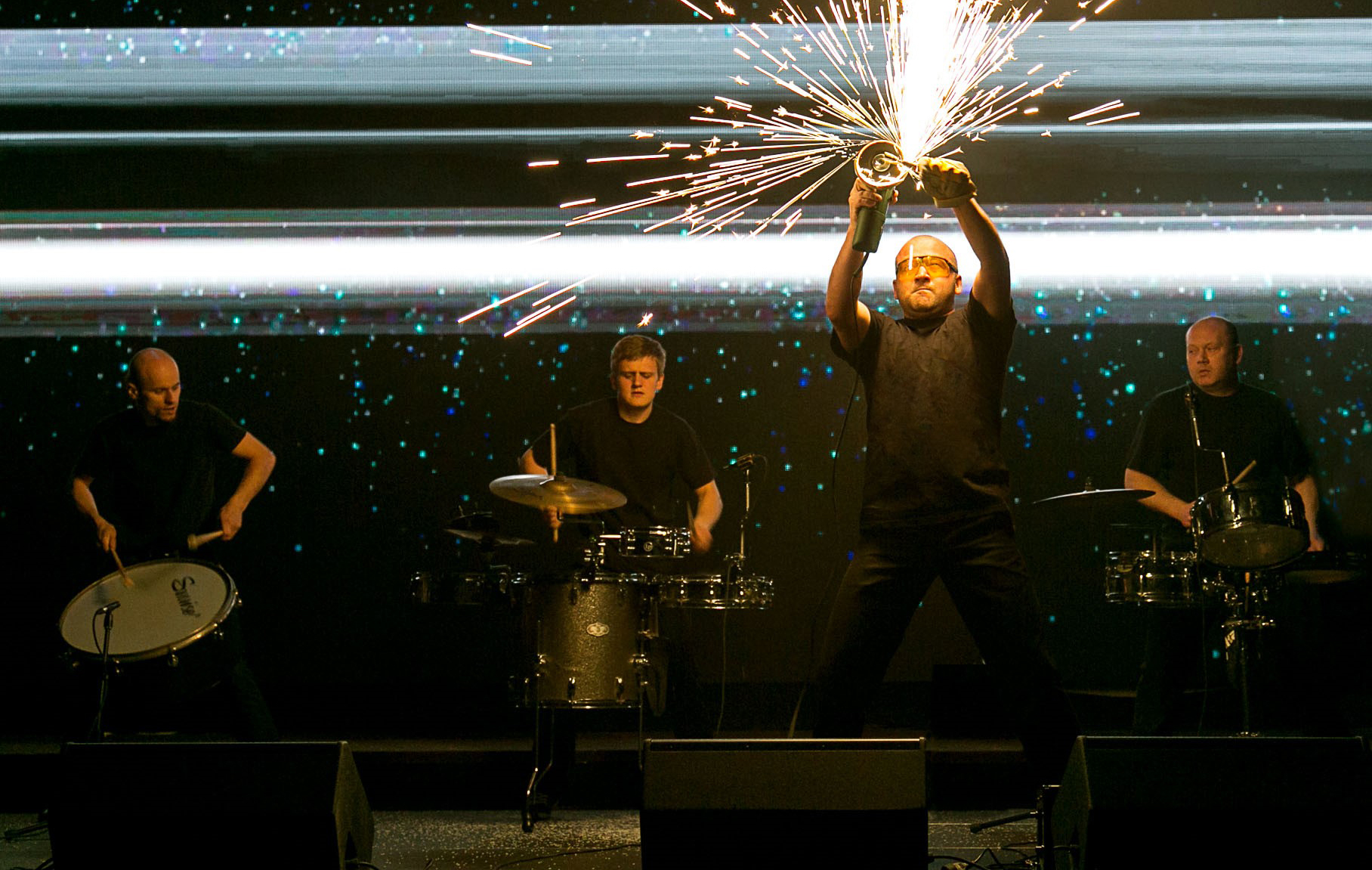 DRUM ECSTASY DOES NOT LIMIT ITSELF TO CONCERTS. THE BAND ALSO STAGES SHOWS IN DIRECT INTERACTION WITH ATHLETES, DANCE GROUPS AND COMPANY REPRESENTATIVES.
Special music compositions and shows are created in accordance with the client's requirements.
DRUM ECSTASY has worked on advertising and presentation projects for brands such as AEG, Boomag, Bosch, Castrol, Coca Cola, Gallina Blanca, Gauloises, JTI, Klinskoe, MAN, Mazda, Microsoft, MTS, Orange, Orbit, Pall Mall, Renault Truck, Revlon, Volkswagen, and others.
Concerts were given at municipal celebrations ranging from Moscow to Surgut, Minsk, Dresden, Bialystok, Kaunas, and many others.
DRUM ECSTASY is not restricted to drum shows. The band has released five solo albums and two collaborations. It has recorded original music for the films «The Night Watch» and «The Day Watch», directed by Timur Bekmambetov, «The Best Movie», etc. The band's music can also be heard in the films «Hitler Kaput», «Dark World» and «Short Circuit» (The Shrimp's Kiss segment by Kirill Serebrennikov), the series «Men Don't Cry», and commercials for Rosgosstrakh and Baltika beer.
DRUM ECSTASY won the Belarusian National Music Award in the «Best Song (music album) for cinema and television» category, for its soundtrack to the film «Saltpetre No.7».
THE BAND HAS PERFORMED FAR AND WIDE: FROM NORILSK TO BARCELONA, LONDON TO TBILISI. THE BAND'S STYLISTIC DIVERSITY HAS CREATED HIGH DEMAND FOR DRUM ECSTASY PERFORMANCES AT VARIOUS TYPES OF MUSIC FESTIVALS.
DRUM ECSTASY has played at the following festivals: Wings in Moscow, Koktebel Jazz Festival, Sergey Kuryokhin International Festival (SKIF), Be2gether in Lithuania, SHINE in the Netherlands, Platonov Art Festival in Voronezh, International Drum Arts Festival in New Taipei City and others. DRUM ECSTASY has also represented Belarusian culture at the Universal Forum of Cultures in Barcelona, Spain.
DRUM ECSTASY has played legendary clubs such as Tacheles and Eimer (Berlin), Stubnitz (Rostock), Effenaar (Eindhoven), TPO (Bologna), 44 (Kyiv), B2 (Moscow) and others. DRUM ECSTASY has toured in Belgium, Ge. DRUM ECSTASY has played support for concerts by Robert Plant & Strange Sensation, Dub FX, The Prodigy, Red Snapper, Marilyn Manson, Lyapis Trubetskoy, Brutto, and others.
DRUM ECSTASY has collaborated with artists of different genres to create unique projects, for example: with classical cellist Oleg Olovnikov, the poets Dmitriy Plax and Dmitriy Strotsev, Ethno-Trio Troitsa, the Lokomotiv Konkret group, Klaxons Brass, TT34 and avant-garde saxophonist Dror Feiler.
Released the joint project DRUMecstasy & HiDDeNname "20:15".
October 2015
Released the album "Numerals".
September 2014
Won a Belarusian National Music Award in the "Best Song (music album) for cinema, television" category for its soundtrack to the film "Saltpetre No.7".
December 2012
Recorded the soundtrack to the film "Saltpetre No.7".
September 2011
With the support of the Swedish Embassy in Belarus and the Swedish Institute (Stockholm), Swedish choreographer Sybrig Dokter staged the ballet Where Water Flows Uphill with the Minsk dance group Karakuli and music by DRUM ECSTASY.
September 2010
Changes in the band's line-up: one of the best Belarusian drummers, Dmitriy Kharitonovich, joined the band.
July 2010
Released the online CD "Play Loud" in Belarus.
April 2010
Changes in the band's line-up
March 2008
The band decided to stop releasing CDs and distribute their music free of charge via the Internet.
November 2007
The band played the last of its legendary illegal concerts under the bridge.
November 28th, 2007
Released the CD "H.D.M." (Heavy Dance Music) in Belarusian music shops.
December 2005
After playing at a Belarusian opposition-organised rally to mark the tenth anniversary of Lukashenko's presidency, DRUM ECSTASY was declared a banned band, prohibited from making any public appearances, and boycotted by the official media.
September 2004
Released the CD "Drums Only" in Belarusian music shops.
September 2004
DRUM ECSTASY represented Belarusian contemporary culture at the "Universal Forum of Cultures" in Barcelona.
August 2004
Released the CD "Drums Only" in Russia, including ten tracks recorded in 2003 and three tracks from 1997. As a bonus, it included eight MP3 tracks specially written for the Russian blockbuster "The Night Watch".
August 2004
Released a CD as part of a UNDP project aimed at involving people with HIV and their relatives in programmes to promote HIV- and AIDS-prevention. It included six new tracks, plus all the information from the CD-ROM.
October 2003
Recorded 16 tracks for the film "The Night Watch".
August 2003
DRUM ECSTASY participated in a joint Minsk Cinema Club / Goethe-Institut project "Retrospective of German Silent Cinema": silent movies accompanied by live music from Minsk club bands. The group played music to F.W. Murnau's version of Faust.
November 11, 2002
Released a CD-ROM, including videos, photos and MP3s of various projects.
March 22, 2002
Released the CD Songs as a 100-copy gift edition for Atlant-M Co.
2001
The Songs project was recorded: authentic Belarusian songs performed by Dmitriy Lukyanchik, ex-vocalist and drummer of Ethno-Trio Troitsa.
November 2000
"Oh! Empire!" was at No.2 in the national hit parade (leaving Rammstein and other pop music behind).
September 2000
Club-owners rated the band's show and dance music as the best in Belarus.
1996–1997
Produced a music video of concert footage, which stayed at No.6 in the national hit parade for the whole of June 1997.
1997
Released the first album "Odds And Ends" (Pan Records Studio, cassette) containing studio and live material from various periods.
March 1997